Discover the Benefits of Licenseware at the Oracle5: Live Event
April 27, 2023
/
/
Comments Off

on Discover the Benefits of Licenseware at the Oracle5: Live Event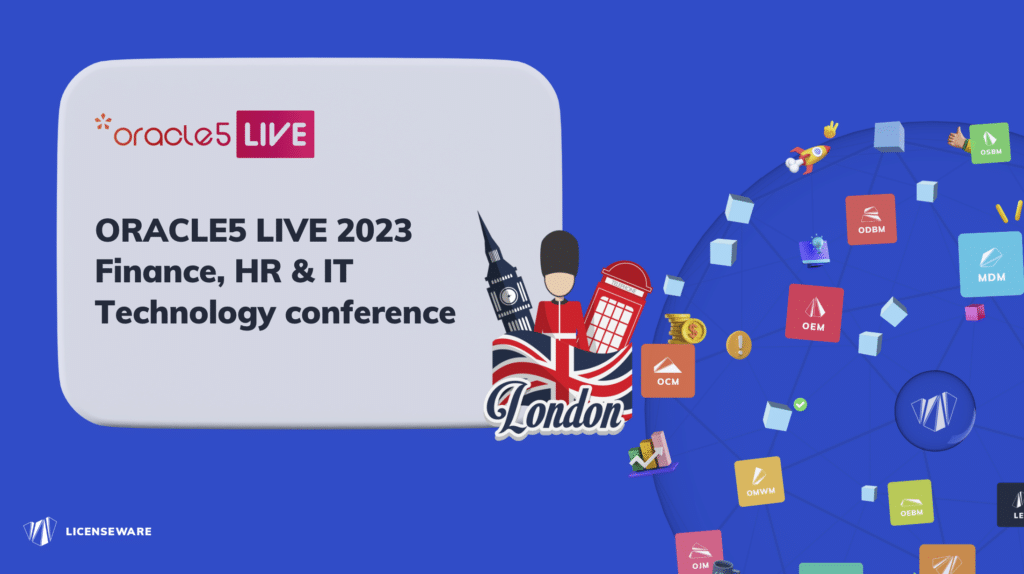 As the world of technology continues to evolve, the need for efficient and effective License Management becomes increasingly critical. Companies are on the lookout for innovative and reliable solutions to streamline their ITAM processes, and Licenseware is at the forefront of this revolution. We are thrilled to announce that Licenseware will be a proud sponsor at the highly anticipated Oracle5: Live event, taking place on Thursday, 22nd June 2023 at the illustrious County Hall in London.
Licenseware's Impact on the ITAM Landscape
Licenseware offers a range of highly focused, modular ITAM applications that analyze any discovery data source, enabling organizations to obtain licensing insights in mere minutes rather than days. By publishing their applications to an open cloud-native platform, Licenseware empowers organizations to select the solutions that best suit their unique needs, streamlining and optimizing their ITAM processes.
With an impressive portfolio of clients, including Accenture, a leading global professional services company, Licenseware has reported saving its clients up to 50% of the time required to finish large projects and millions in avoided software costs. This achievement has earned Licenseware recognition as a shortlisted candidate for the ITAM Technology or Service Innovation of the Year Award and a spot on Daily Finance's list of 40 Leading Romania Management Consulting Firms and Startups.
Experience Licenseware at Oracle5: Live
As a sponsor of Oracle5: Live, Licenseware will showcase its innovative Oracle License Management solutions at one of the most prestigious technology events of the year. The event will be held at the iconic County Hall, situated on the banks of the River Thames and next to the world-famous London Eye. Attendees will have the opportunity to engage with Licenseware's team of experts, explore the benefits of their modular ITAM applications, and learn how Licenseware can empower their ITAM teams to deliver services beyond expectations.
Psst… 👇
Need help in understanding your Oracle Licensing? Licenseware creates great licensing content, but even better data analysis automations! 💪
Get licensing insights in minutes today using our apps ⏱
Or book a call with one of our licensing specialists 🧙‍♂️
Don't Miss Out on Oracle5: Live
Oracle5: Live promises to be an unforgettable event, offering attendees the chance to connect with industry leaders, discover new technologies, and learn about the latest trends in the tech world. Don't miss out on this incredible opportunity to experience Licenseware's cutting-edge Oracle License Management solutions firsthand.
To learn more about Licenseware and its innovative ITAM applications, reach out to us at sales@licenseware.io or visit our website at licenseware.io. We look forward to seeing you at Oracle5: Live!
If you find our articles useful, register for our monthly newsletter for regular industry insights 👇